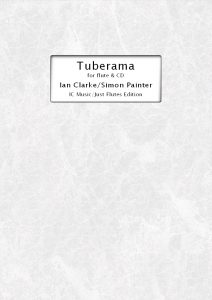 Tuberama by Ian Clarke/Simon Painter – flute and backing track [advanced, open-holes not required, Cft]
This is the solo flute & backing CD version of the track on the acclaimed album 'Within…' A studio track that can be played live with the backing track. The track features processed flutes, guitars, samples and drums. It uses some extended techniques.
A fully live version was performed by both Ian Clarke and Ian Anderson with Jethro Tull at the Barbican Symphony Hall.
It can be performed on a Cft closed hole flute. Singing and playing along with a lot of energy is required throughout. Some of the articulation is indicated whilst the style is probably best worked out by ear from the original recording; an excerpt can be found below. Currently only the backing track version is available.
It is listed on the AMEB (Australian Music Examinations Board).

As with other IC Music publications it has been performed internationally including at major conventions. There an excerpt of the original below and various peoples' recordings can be found online.
Older editions came with a CD performance backing track as well a full version. New editions come with a download code to download from this site.
Excerpt from Ian's album 'Within…'