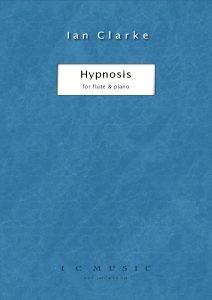 Hypnosis – flute & piano, based on improvisations with Clarke/Hicks/Painter [grade 8]
(Hypnosis is also available in the 3 pieces compilation book along with Spiral Lament and The Mad Hatter)
Dreamy and lyrical in style with powerful expressive climaxes to the 1st and 2nd half of the work. Its range is to top C or D (three advanced options increase the level of difficulty). No advanced techniques are used. Like many of Ian's pieces Hypnosis has been used with great success for auditions, music festivals, A level recitals and degree recitals.
Along with 'maya', 'Sunstreams' & 'Sunday Morning', Hypnosis' lies in the category of pieces that are re-workings of tracks originally co-written by Ian with David Hicks and Simon Painter when they worked together both in the studio and as a performing rock group. Chronologically they are the oldest in origin although they were revisited by Ian some years after the group disbanded. 'Hypnosis' was one of the most popular tracks in live performance alongside a more conventional set of rock songs. It evolved as a structured improvisation over numerous gigs between 1986 & 1988. The piece was developed into a piano and flute piece by Ian in 1994. Many of the sixteenth/semi-quaver motifs of the piano were amongst new developments whilst the original opening bass line can still be heard. Inevitably due to the nature of its evolution as a piece the line of the flute has a naturally expressive, free and organic quality.
There are no required extended techniques and the piece does not require open-holes or a B foot joint; there is an optional bend to the last note. There are easier alternatives for some of the runs and an optional high D climax; the less virtuosic runs are marked as the principal option whilst the more difficult runs are marked as the ossia or alternative.
'Hypnosis' has been selected for the 2007 Trinity Guildhall grade 8 flute syllabus. It is also listed on the Carnegie Hall/Royal Conservatory (Canadian/USA exam system grade 1- 10 plus ARCT)