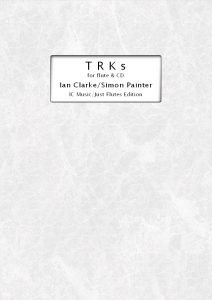 TRKs by Ian Clarke/Simon Painter – flute and backing track [advanced, open-holes required]
An individual and dramatic piece….sort of, but not, Pink Floyd for flute. A studio track that can be played live with the backing track. The track features processed flutes, guitars, samples and drums.
It uses some extended techniques. As with other IC Music publications it has been performed internationally including at major conventions. There an excerpt of the original below and various peoples' recordings can be found online.
Older editions came with a CD performance backing track as well a full version. New editions come with a download code to download from this site.
Unlike many of my other works this title doesn't illuminate and carries no significant meaning beyond leaving a space to which the listener/performer can bring there own thoughts. The markings in the music itself carry more significance. Other than that, there isn't a conscious programmatic, literary or other external element. The title was selected by Simon & Ian in the studio to label the file. This was early on in the composition process when I was fiddling around with flicks using trill keys hence 'T R K s' was a vague reference to trill keys and not tracks!
Excerpt from Ian's album 'Within…'