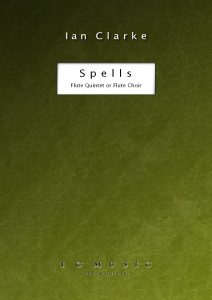 S p e l l s – Ian Clarke (Flute quintet or flute choir: piccolo, 2 C flutes, alto flute and bass flute) [advanced with intermediate ossias – requires open-holes, ideally B ft for C flutes]
Commissioned by the Quintessenz Flute Ensemble (Leipzig) and the Chicago Flute Club
Premiered at the USA and UK international flute conventions 2014
NFA – Chicago, USA – Chicago Flute Club
BFS – Warwick, UK – Quintessenz
Premiere quintet recording by Quintessenz on Incantations album 2016
First published 2018
The title is a gateway or clue to many possible underlying imaginative worlds of the piece: a world of Spells!
This piece can be performed using the advanced (upper) or intermediate (lower) options or by using a combination of both. It wasn't written for the Halloween season, but that's certainly amongst many fun reasons to programme.
Further Programme Notes
Single or a balanced number of multiple players per part may be used.
On first sight the intermediate part might be reasonably viewed by many to be advanced, and the advanced part to be virtuosic. As the techniques and patterns become more familiar, many passages are likely to become more approachable than they might at first seem.
Staff Pick (Just Flutes)
"Lovely!"
Chris Hankin Just Flutes staff member – chrish@justflutes.com
"This is another lovely work from Ian Clarke which is rich in atmospheric colour. It's approachable too! The contemporary techniques used are restricted to residual tones, jet whistles and various tongue rams with an absence of different fingerings to learn. This together with the alternative lines for less experienced players means that a wider range of abilities can have a go. There are still plenty of notes in all the other parts though and the advanced will have to work hard to make this piece sound really effective. With such wonderful music it's unlikely that anyone will mind!"