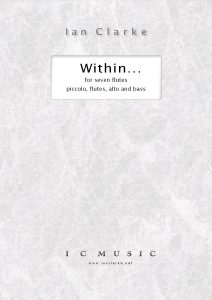 Within… – Ian Clarke (7 flutes: 4 C flutes, flute & piccolo, alto flute, bass flute) [advanced – requires open-holes, some parts need B ft]
A unique evocative work with featured moments in all parts. Accessible extended techniques employed to give a powerful and extraordinary voice ….. a new experience!
The first performance in the USA was at the 2005 NFA International Flute Convention in San Diego with Ian Clarke, Wissam Boustany, Hitomi Furukawa, William Bennett OBE, Taka Masuda, Denis Bouriakov and Trevor Wye.
It also received its first celebrity performance at the 2006 British Society International convention in Manchester with: Ian Clarke, Wissam Boustany, Petri Alanko, Jean-Louis Beaumadier, Alexa Still, Carla Rees & Matthias Ziegler. Now performed regularly, other notable performances include a celebrity performance at the Brazilian flute festival and a performance with 50 young flute players from the Bromley music service at the famous Albert Hall, London in a schools prom.
The bulk of 'Within…' was sketched in 1999. As things turned out it was not completed until 2003 when it was given its first performance by the composer in a version for solo flute and CD with the soloist taking some of the principle lines from the various parts on flute, piccolo & alto/bass. The first performance with seven flautists was by course members at the Stratford-upon-Avon Flute Festival in 2004.
Further Programme Notes
The personal musical inspiration, character, sole of the piece is rather difficult to describe; this is reflected in the title perhaps. Some mileage maybe made out of the fact that the original sketch was made in the same year as the solo flute piece Zoom Tube was completed and, of course, it post dates Orange Dawn. Therefore musical explorations of the flute and former influences were probably at play. In a technical sense there can be some subtle and more obvious parallels drawn with these pieces should the listener be familiar with them; which is not at all a requirement.
It is fundamentally in three/four sections with close harmony breath sounds in the opening & closing and an evocative melodic line using microtonal passing notes and grace note articulations. This line is carried by the first flute at the beginning and is passed around the group as the piece progresses with the alto and bass flutes employed in their rather haunting higher registers. In the more brooding and rhythmic 2nd section several devices including percussive articulation, singing& playing, breath ramps and intricate tremolo patterns are used to build to a grand, tempestuous reprise of the main theme on piccolo & alto. This then gives way to the haunting ebb & flow of the final section.
First published 2005.