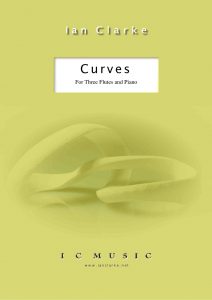 Curves – (3 flutes & piano) [advanced – requires open-holes ideally B ft]
Three movements: Magical & Woven, Plaintive, Presto
A substantial work for advanced players that has received numerous international performances with exciting debuts in headline concerts at the 2012 NFA, Las Vegas and BFS, Manchester conventions.
Joint winner of the NFA Newly Published Music Competition 2013 – Small Flute Ensemble Winner
Curves was initially premiered by Ian Clarke with fine musicians and close colleagues Philippa Davies and Sarah Newbold with Jan Willem Nelleke (piano) at the Guildhall School of Music & Drama, London in January 2011. It was the final piece in a special flute faculty recital shared between these three flautists and Jan Willem. Many thanks are due to both Sarah and Philippa for their support and warmth in encouraging Ian to bring this piece to life. It was written with this concert as its first performance in mind. The second performance was given by the same team at Cardiff's Millennium centre at the Arcomis International Flute Festival in 2012. As well as a vehicle for making music with others, it was written as a piece to explore the expressive sound-world of three flutes with piano.
Performances have taken place with leading professionals and students at flute events internationally including at conventions in the UK, USA and Europe. Growing from its happy origins in the GSMD flute faculty as a piece that explores the musical voice of the flute and brings together colleagues on stage, it is hoped that many more will enjoy this spirit of adventure and shared music making.
Further Programme Notes
Curves is a title that emerged early on in the creative process inspired by some of the thematic material such as the opening motif. It can be argued that music is best articulated by the experience of listening, similarly it can be said that titles can serve as interesting handles that may carry some useful, perhaps important, orientation or intrigue. By the time this piece was completed, its working title had at least become a partial gateway to the world within the piece; certainly the imaginations of the title, synonymous with countless aspects of the natural world – not least the human form, and human cultural expressions from art to mathematics – lead to a limitless playground of feelings that this piece only partially explores. Another related thread that seemed to flow in the work was texture; an intrinsic and pertinent tool related to both these sensory images being the use of particular aspects of the extended language of the flute. I hesitate to mention these as they are simply part of the 'Curves' vocabulary and hopefully, in the end, just an interesting means to a more interesting end. However, these means are unusual and rare if not unique in this configuration
In the first movement the use of quarter-tones across all three flute parts leads to an opening theme that may appear to curve. Interlocking small curves in close harmony lead to what might be felt at times to be a palpable texture and even 'taste'. All of this is bound up with emotional states that dialogue with this sort of synaesthesia.
In the 2nd movement the piano sets a new cooler atmosphere. Alternative 'colour' fingerings are employed alongside conventional ones to enhance the textural expression of the three flutes. The intention is to say something in a different expressive sound-world that is both unusual, evocative and somehow familiar. This may be reminiscent in some ways of the colours of world flutes; in the end however, it is simply attempting to touch upon universal primal expressions, both old and new, present in the flute and possible in this combination.
After introducing a fast driving theme in repeating pairs of 3/2 and 4/4, the flutes alternate and interlock in what is at times almost a mosaic technique of carrying the melody. The piano at first contrasts the electric pace with an arcing walking melodic line and then helps underpin and drive things forward. When this arcing line returns in the middle section, the flutes bring back themes from the first two movements before a quasi recapitulation and a finishing flourish!
Notes on the score
There are identical performance notes on copies of each part. Because the piece employs some of the wider language of the flute, inevitably things look a little more complicated on the page than they often are in reality. Everything on the page is the notated version of something that can happen naturally on the flute. This is important to bear in mind. The piano part will be more straightforward and readily accessible to most advanced pianists than at least some of the flute parts will be to most advanced flautists. Therefore if you are a flautist who initially struggles with some of the language of the piece then do not worry as you are sharing the same process as many notable flute players who also travelled a little outside their comfort zone to play it. Not surprisingly they rose to the challenge, though bear in mind this sometimes took a little time and patience. In the end the piece is not quite as difficult as it may initially seem. To begin with, perhaps the most elusive world will be in the middle movement where there is use of an expressive extended colour-world that steps beyond the usual expectations.
Ian Clarke – 2012