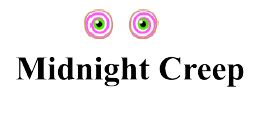 Midnight Creep – Ian Clarke (solo, duet or trio for C flutes with optional piano accompaniment) [early stage flute players Cft]
This piece is currently the only piece available to download in pdf form. Check out the downloads section of this site.
Midnight Creep is a flexible fun piece for solo, duet or trio along with an optional piano accompaniment. There is option to explore some easy 'scary' flute techniques in the introduction. Something for Halloween perhaps!
The main theme explores B and Bb making it a useful vehicle for learning to switch.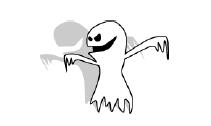 This is a little piece written years ago when Ian taught many beginner students. Although Ian's only regular teaching is as a professor of flute at music college nowadays, he still likes to work with students of all ages and standards at various flute events. Ensembles like Walk Like This and Zig Zag Zoo are mixed level ensembles for all abilities including early years students. Both of these were commissioned by Flutewise (Zig Zag Zoo jointly with the Birmingham Music service).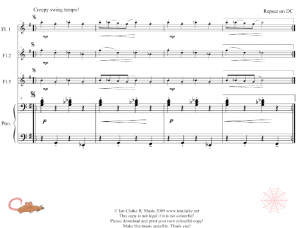 This is a sample from the optional piano score.
Parts:
Flute 3 – all in the stave and can be played solo
Flute 2 – a counter melody for the teacher of slightly more able player
Flute 1 – the melody in the 2nd register up to D
Trio – these parts laid out in 3 staves
Piano score – trio plus simple piano.
N.B. Both download options are inexpensive. One includes parts only and one includes parts and score.