Suntreams & Sunday Morning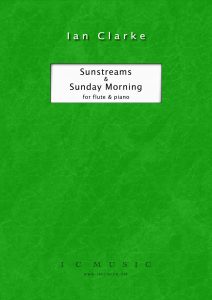 Sunstreams & Sunday Morning arr. by Ian Clarke by Clarke/Hicks/Painter – (flute & piano) [neither piece requires open-holes – C foot]
This popular book features both pieces which are of moderate tempo and difficulty. There are backing tracks available for each – see link below or downloads section. There is an unlisted guide video for Sunday Morning originally created for the BFS (British Flute Society).
Sunstreams (1986): arranged by Ian Clarke (1st printed in 1998), composed by Ian Clarke, Simon Painter & David Hicks.
Sunstreams has been listed on a number of exam syllabuses including the ABRSM grade 8 (see comments below), Trinity Guildhall grade 7 and the Carnegie Hall/Royal Conservatory (Canadian/USA exam system grade 1- 10 plus ARCT). The showy more technical middle section lies under the fingers so is one of those 'easier than it looks' passages. No extended techniques are used.
Sunday Morning (1987): arranged by Ian Clarke (1st printed in 1998), composed by Ian Clarke, Simon Painter & David Hicks.
It is a little more difficult, particularly if the optional 8va is taken since it ventures to 4th octave Db. Timbral trills are employed for which fingerings are shown. See video guide below.
Some further thoughts:
Sunday Morning is a title chosen by myself and co-writers and I seem to remember it being triggered in part by Lionel Richie's rendition of 'Easy Like Sunday Morning'. It certainly has that Sunday Morning feeling about it. There is reference to peeling bells in the piano in the timbral trill section. In its original form it was written for flute, keyboards (inc. church organ I seem to recall), guitar, bass guitar & drums. I later adapted the piece for piano & flute.
Both pieces come from a group of pieces that were originally co-written by Ian Clarke, Simon Painter and David Hicks when working together in the studio and as a performing rock group. They have subsequently been reworked by Ian for flute and piano; in their original form they were for flute, guitars, keyboards & drums. These arrangements were made circa 1998.
From the Associated Board Libretto 2007:3 – "Grade 8, List B1
Ian Clarke: Sunstreams
Although Ian Clarke is best known for his extended techniques there are none here – this is simply a beautiful piece of music that is great to play. You will need to have good upper register control though, with intonation a real issue as the melody soars up to the very top of the flute. Flexible vibrato is another prerequisite and the ability to sustain it right through the melodic line will be crucial to success here. There are also some tricky technical passages with demisemiquavers grouped in nines but careful practice will ensure that the fingers are even and the sound effortless. Ultimately, the challenge of Sunstreams is to assimilate the improvisational style that encompasses the complete range of the instrument. Despite the difficulties this is destined to become one of the most popular pieces on the list."
Christine Hankin
Christine Hankin is a freelance flautist and teacher. She has recently published a book of flute and piano arrangements and is an Associated Board diploma examiner and CT ABRSM mentor.